Title: Pucked Over
Genre: Contemporary Romance
Publish Date: January 22, 2016
Lily LeBlanc isn't versed in the art of casual sex, but after seven years in an on-again, off-again relationship, she's definitely willing to give it a shot. And who better to try it with than her best friend's boyfriend's best friend? What could possibly go wrong?
NHL player, Randy Ballistic, lives up to his last name on the ice and in the bedroom. His best friend and teammate has recently given up the puck bunnies and traded them in for a real girlfriend. And she just happens to have a seriously feisty, extra-hot best friend on the rebound. Randy's more than happy to be Lily's spring board back into the dating scene.
But casual sex is only casual until those pesky things called emotions get involved. Once that happens, someone's bound to get pucked over.
Pucked Over is book three in the Pucked series. If you haven't read Pucked or Pucked Up you will be okay but I would advise you to read the first two. You won't be sorry that's for sure but ultimately you will understand the characters MUCH better.
Randy "Balls" Ballistic plays professional hockey for the Chicago Blackhawks. He's not only known for his moves on the ice though. Nobody, including himself, ever thought he would be one to settle down until he met Lily LeBlanc.
Randy met Lily in Pucked Up while on a weekend trip in Canada with his friend and teammate, Miller. The whole scenario was hilarious but Lily had an immediate attraction to Randy but she's not the kind of girl that falls for hockey players. So she thought anyways…until casual sex turns into falling in love.
HOLY PUCK was this book amazing! I could NOT put this book down. I loved how the characters from the last two books intertwined into this story. I can never get enough of Violet!! I also love how in each book the hilarity never ceases. I have never laughed so much but at the same time so turned on. It's like when you have something salty you need something sweet….the perfect combination.
Helena Hunting lives on the outskirts of Toronto with her incredibly tolerant family and two moderately intolerant cats. She's putting her degree in English Lit to good use by writing contemporary erotic romance. She is the author of Clipped Wings, her debut novel, and Inked Armor.
Pucked (Pucked #1)
With a famous NHL player for a stepbrother, Violet Hall is well acquainted with the playboy reputation of many a hockey star. So of course she isn't interested in legendary team captain Alex Waters or his pretty, beat-up face and rock-hard six-pack abs. When Alex inadvertently obliterates Violet's misapprehension regarding the inferior intellect of hockey players, he becomes much more than just a hot body with the face to match.
Suffering from a complete lapse in judgment, Violet discovers just how good Alex is with the hockey stick in his pants. Violet believes her night of orgasmic magic with Alex is just that: one night. But Alex starts to call. And text. And email and send extravagant—and quirky—gifts. Suddenly, he's too difficult to ignore, and nearly impossible not to like.
The problem is, the media portrays Alex as a total player, and Violet doesn't want to be part of the game.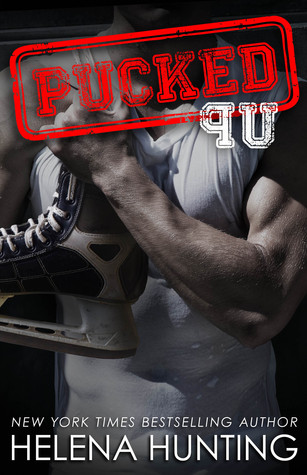 Pucked Up (Pucked #2)
Miller "Buck" Butterson has been banging his way through life ever since a puck to the face fixed his messed up front teeth. After five years in the NHL, deflecting goals on the ice and scoring them with puck bunnies, Miller has decided he's ready for a girlfriend. A real, non-bunny girlfriend to take on dates, and not jump into bed with after five seconds of conversation.
Miller thinks he's found that woman in his teammate's sister. Except, unlike team captain and all-around nice guy Alex Waters—who happens to date his stepsister, Miller's media reputation as a manwhore is well earned. Beyond that minor detail, Miller doesn't know the first thing about relationships or the time and effort they require.
Miller learns—eventually—that if he wants to make Sunshine "Sunny" Waters fall for him, he's going to have to do a whole lot more than show her his stick skills in the bedroom.